Filmmaker by passion
Since 2018, I have been working in the video production industry, earning the trust of both national and international companies.
My expertise is in creating corporative/commercial documentary-style videos that effectively convey the narrative and message behind each project and company.
Nowadays, people don't just rely in brand names to make consumer choices, but they are actually more interested in the stories behind them.
My passion is bringing these stories to life.
Currently I own and operate Mindfulness Lens, a small production company specializing in professional video projects, e-commerce photography, events, corporate and advertising campaigns among others.
My goal is always the same: to immortalize and tell your story.
TELL ME YOUR STORY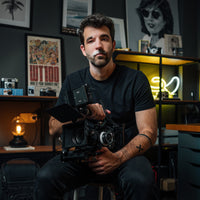 You must be the change you wish to see in the world